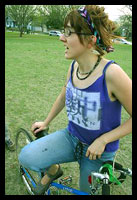 This project is dedicated in honor and memory of Devin Ruth Adams, a beautiful and passionate bicyclist, musician, and friend.

Devin was active in the early Critical Mass rides in Fort Worth, and was often seen riding her bicycle in heels and skirts so to be easily discerned as a woman on a bike.

Mere weeks before Devin was taken from us (in a fatal bicycle accident in September 2006), she had told director Tammy Gomez, "I can't wait to get back [from California] so we can do more performance work together!"

Without a doubt, Devin would have been a member of the cast for She:Bike/Spoke/Love, given that she had been part of our performing arts community in North Texas and was close friends with several of the other cast members. But she rides with us in spirit, as we imagine just how excited she would have been to see this work come to fruition.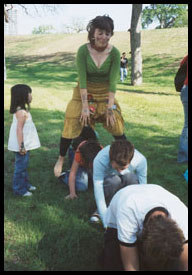 We still miss Devin very much, but her example and inspiring light lives on in each of us. We are committed to working/playing/singing even harder now, in honor of Devin

For more info about Devin see http://www.myspace.com/for_devin

Here's a photo of the ghost bike that was created and installed to memorialize Devin in Oxnard, California
http://ghostbikes.org/oxnard/devin-ruth-adams

A tribute from a photographer friend
http://www.myspace.com/flaycreech/blog/173100845